Connecting the Unconnected: The Future of Non-Terrestrial Networks (NTNs)
Intro
Non-terrestrial networks (NTNs) are communication systems that extend connectivity beyond the reach of traditional terrestrial networks to enable services to underserved communities and remote areas. By transcending the limitations of traditional terrestrial network infrastructure, non-terrestrial networks offer the potential to offer enhanced or previously unavailable services to various use cases including open ocean shipping container monitoring, remote monitoring of oil rigs, and assisting with search and rescue and emergency response.
Background
NTNs are networks or segments of networks that use satellite constellations (GEO/MEO/LEO), airborne vehicles (High-Altitude Platforms or HAPs), and drones to extend the coverage and capacity of terrestrial networks.
By extending coverage beyond terrestrial networks, NTNs provide services to previously underserved and remote areas such as rural communities and sparsely populated islands. NTNs will also be able to offer ubiquitous and reliable connectivity for IoT applications such as tracking vehicles in areas with limited cellular coverage, tracking cargo on ships at sea, and monitoring assets in remote areas.
NTNs also add an additional layer of resilience and redundancy to existing terrestrial networks. In the event of natural disasters or network outages, NTNs provide backup connectivity to ensure continued service for mission-critical communications and applications.
NTN Example #1: Low-Earth Orbit (LEO) Constellations
Companies with LEO satellite constellations, which operate at altitudes ranging from 500 to 1,200 kilometers, have emerged as early NTN leaders. LEO satellites offer faster data transmission, reduced latency, and improved coverage compared to traditional geostationary satellites (GEO). Key players include Iridium, Globalstar, Orbcomm, Starlink, OneWeb, Project Kuiper by Amazon, Telesat, and Planet Labs.
Iridium
The Iridium satellite constellation, which was initially launched in 1997, provides L band voice and data information coverage to satellite phones, satellite messenger communication devices and integrated transceivers, as well as two-way satellite messaging service to supported Android smartphones.
Iridium's constellation consists of 66 active LEO satellites with additional spares to serve in case of failure. Iridium reached over 2 million subscribers at the start of 2023.
SpaceX's Starlink
Starlink is a LEO satellite internet constellation which currently consists of over 4,500 satellites which communicate with designated ground transceivers. Starlink plans to deploy nearly 12,000 satellites with a possible later extension to 42,000. Starlink announced in May it had reached 1.5 million subscribers.
NTN Example #2: High-Altitude Platforms (HAPs)
High-Altitude Platforms (HAPs) are aerial systems positioned at altitudes between traditional aircraft and satellites, typically ranging from 20 to 50 kilometers above the Earth's surface. HAPs serve as a middle ground between satellites and ground-based systems, providing advantages like cost-effectiveness and rapid deployment.
Key players include Airbus (Zephyr solar-powered aerial vehicles), Thales Alenia Space, Lockheed Martin's HAPMobile subsidiary, AeroVironment, and Stratodynamics Aviation.
Positioning Universal's NTN View
Positioning Universal continues to monitor NTN activities and has had discussions with numerous emerging IoT connectivity providers to explore ways to improve the performance and cost effectiveness of our services and to consider new services and markets.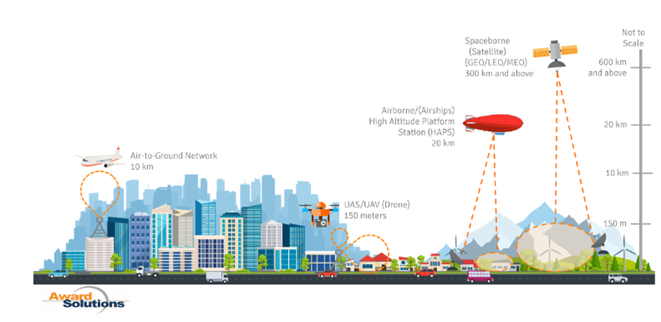 Source: Award Solutions